It is the Northern Marianas Humanities Council's mission to navigate and explore the human experiences of the indigenous and diverse peoples of the Commonwealth by enriching their lives through research, dialogue, programs, and publications.
FEATURED PROGRAMS
The Northern Marianas Humanities Council is delighted to introduce our newest series, Cultural Icons of the CNMI! This series will be shared every other month, and we will be featuring CNMI community members who promote and perpetuate local culture and traditions. 
  
The Northern Marianas Humanities Council is excited to announce the Let's Learn Chamorro Series! Sponsored by Rivers Pictures, where they make your imagination realized. 
Let's Learn Chamorro is a series put together by several instructors to teach the public about the CNMI, religion and cultural aspects. Ingredients, Bilingual, and many more are constantly being featured and shared about on their page! Find out more at
www.mycnmi.com
We would also like to congratulate those who contributed to the finishing product for Series 1 & 2, check it out now!
Instructor Miss Gloria Rasiang from Francisco M. Sablan Middle School.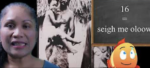 Instructor Claire Cabrera, former instructor from the Language Immersion Program (Kagman Elementary School) and now in Mount Carmel School.
Your Humanities Half Hour Click the photo below to hear the latest interview:

670Humanities      Northern Marianas Humanities Council