LEGACY PROGRAMS
To fulfill its mission, the Northern Marianas Humanities Council administers a series of annual programs as well as other one time programs and activities.  The Council's overall goal is to offer a variety of high quality humanities programming to as wide an audience as possible.
---
CULTURAL ICON: SERIES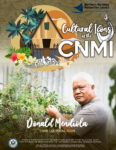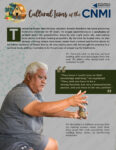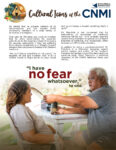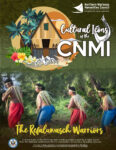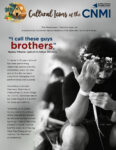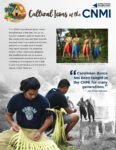 ---
A noncompetitive annual event wherein the CNMI Middle School students are divided into defense and prosecution teams, with both attorneys and witnesses to deliberate a fictitious case. Since it is noncompetitive, exceptional performances get certificates of recognition.
An annual competition between middle school students who recite poems from Valentine Sengebau's "Mirco Child" collection and between high school students who compose original poems and recite them. The school's win a perpetual trophy and the top three are awarded cash prizes.
---
An annual event wherein the community and Council nominate members of the community in six categories: Research and Publication in the Humanities; Preservation of Traditional Cultural Practices;
Preservation of CNMI History; Outstanding Humanities Teacher in the classroom, Outstanding Humanities Teacher in a non-classroom setting and the Lifetime Achievement award. The awardees are given plaques at the ceremony along with former Board members.
---
A half hour (11:30-12:00) radio show that airs every Sunday on Power 99, in which the hostCathy Perry interviews a guest(s) on a humanities topic.
---
A National program that began in North Carolina in 1987, that improves and builds parents and children's literacy skills, and is now adopted in many states and in the CNMI. Adult Classes are taught by trained instructors in the program that follows a curriculum that increases literacy skills in parents. Classes for children are provided for those parents who do not have child care during the program. The children are read to and read during the parent's sessions which is called Story Exploring.
---
A biennial event that takes place over the course of two days wherein professionals and the public can share their knowledge on a specific topic in the humanities. The conference is co-hosted by the CNMI and Guam.
---
---
HUMANITIES FRIDAYS 2020
 Sophia Perez – Tip of the Spear: How Mariana Islanders See Their Relationship with the US Military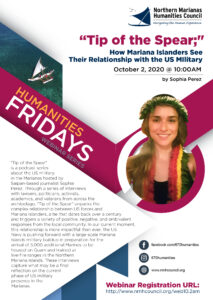 ---
Maureen Sebangiol, Marilynn Marron, & Pam Brown – Meet Soroptimist's of the Northern Mariana Islands.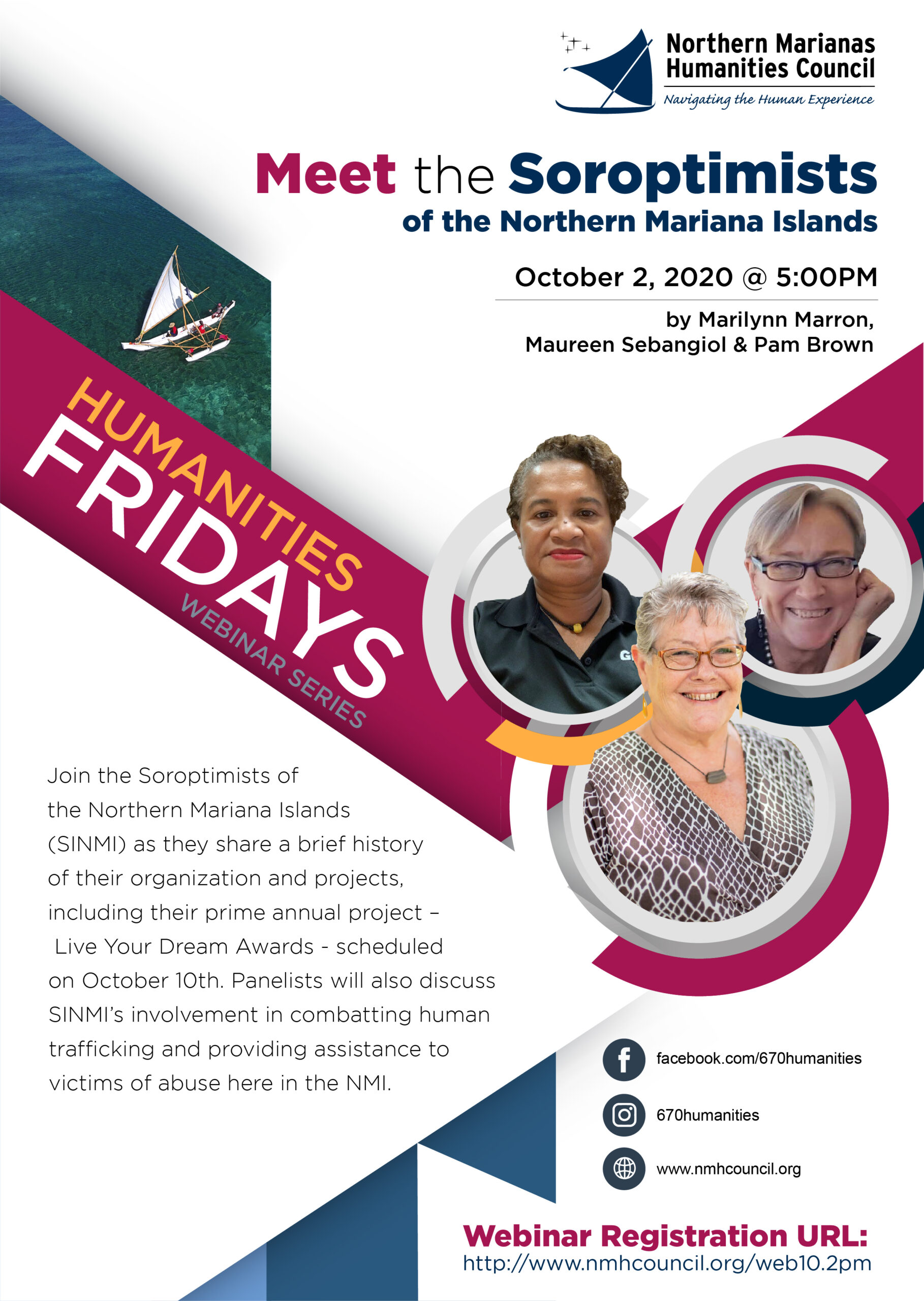 ---
Hanna Jugo –  Adaptive Strategies to Food Insecurity within the Chuukese Community of Guam.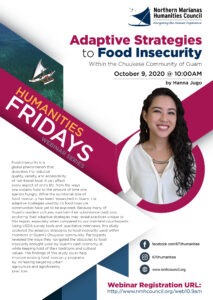 ---
Fu'una Sanz – I Tinilaikan Numiru gi Fino' CHamoru: Changes in Chamorro Plurality.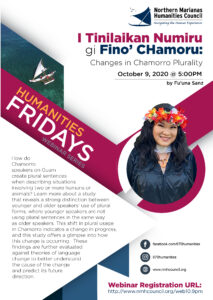 ---
Thomas Mangloña – Democracy and the Informed Citizen.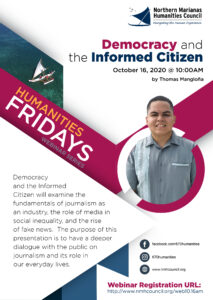 ---
Vana Quichocho –  Håyi Ham På'go: Understanding How Chamoru Identity and Acculturation Styles Affect the Psychological Well-
Being of Third Generation World War II Chamoru People in Guam.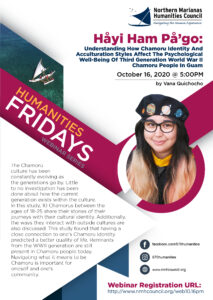 ---
Joey P. San Nicholas & Kimberly King-Hinds – Ti Un Chuli' Hulu' Gi Langhet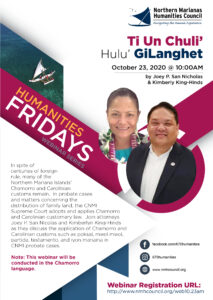 ---
Kayle Tydingco – Tiningo' Famalåo'an: Oral Histories & Non-fiction Stories of Chamorro Women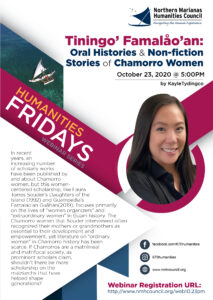 ---
Arielle Lowe – Pakaka i Pachot-mu! Chamoru Yu'! An Analysis of Guam's Chamaole Narratives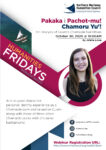 ---
Leonard Leon – Super Typhoon Yutu: The Human Experience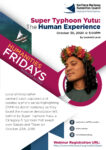 Check out our Youtube channel to access these webinars!
---
FEATURED COUNCIL PROJECTS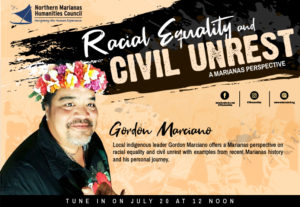 Racial Equality & Civil Unrest
Through the voices and courage of residents of The Marianas, the Northern Marianas Humanities Council features a series of interviews – Racial Equality & Civil Unrest – to take a deep dive into these issues through the lens of the humanities.
John Davis - Former high school teacher of U.S Government and Vietnam War veteran John Davis gives us highlights of Racial Equality and Civil Unrest.
Dr. Beylul Solomon - A PhD in Developmental Psychology, Dr. Solomon provides an introductory overview of Racial Equality and Civil Unrest.
Thomas Manglona - Multi Media Journalist Thomas Manglona II describes how the media & social media influences issues of Racial Equality and Civil Unrest.
Gordon Marciano - Local indigenous leader Gordon Marciano offers a Marianas perspective on Racial Equality and Civil Unrest with examples from recent Marianas history and his personal journey.
 Joe Hill - Attorney Joe Hill shares highlights of U.S Laws and Court cases related to racial equality and civil unrest.
[/su_expand][/su_column]
---
MEDIA SURVEY 
As part of the i Minagåhet / Ellet: Reporting the Truth in the NMI project, the Council invites all CNMI residents 18-years or older to complete our media survey.
The purpose of this survey is to help our community better understand the relationship between media use and perceptions, civic behaviors and attitudes on local issues in our community.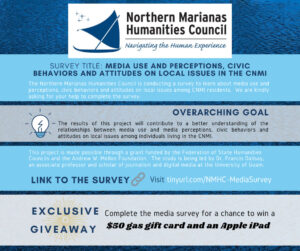 ---
Veterans Speaker Series
---
REFALUWASCH AND CHAMORRO CHILDREN'S SONGS OF SAIPAN
This Community Webinar Series presentation by Melanie Hangca was be followed by a 45-minute discussion of local music and cultural identity featuring a panel of celebrated Marianas musicians: JJ Concepcion, Gus Kaipat, and Microchild's Shannon McManus, along with her mother, Andresina McManus.
Melanie Hangca has been teaching choral, instrumental and general music for almost two decades, and has worked in public schools on both the East Coast and West Coast of the US. She shared her childhood cultural and musical experiences on Saipan as a "Chamolinerican," and her adolescent influences that shaped her cultural identity. The panel shared their own experiences and influences in turn.
COUNCIL PROGRAMS: