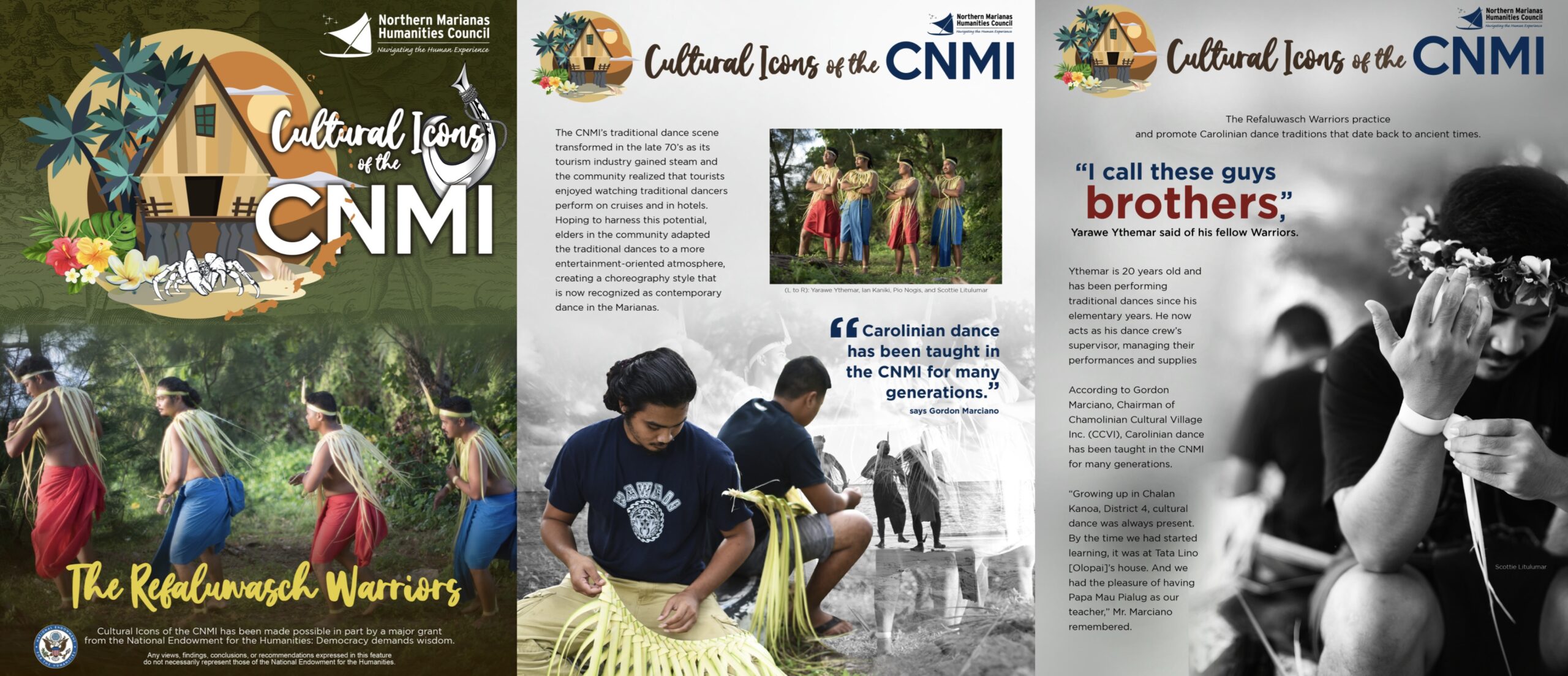 WhatsApp Image 2020-06-04 at 10.55.12
C40C0119-1703-4C4A-B4BC-2D812FBAE129
Featured Programs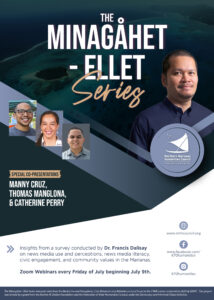 The Northern Marianas Humanities Council is pleased to announce that the Minagåhet – Ellet webinar series will run on Fridays throughout the month of July.  
The webinars focus on data collected by Dr. Francis Dalisay, a researcher from the University of Guam. In 2020, he surveyed hundreds of people from Saipan, Tinian, and Luta to measure the way they interacted with local media sources. 
Topics of discussion include news use and media perceptions; media literacy; news media skepticism; use of social media as a news source; and more. 
Click here to view the first and second episode of the webinar series. 
_______________________________________________________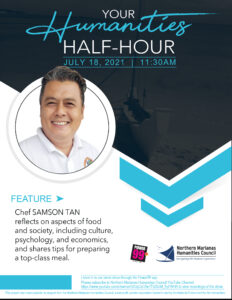 Have you listened to this episode of our weekly radio segment, Your Humanities Half-Hour? On July 18th, host Catherine Perry sat down with chef Samson Tan, owner of the Chagi Norf Kitchen, to reflect on aspects of food and society. Together, they had a wonderful conversation about culture, psychology, economics, and what makes for a top-class meal.
Tune in Sunday at 11:30 a.m. to Power 99 (97.9 FM Saipan) or The Shark (99.5 FM Guam), or listen online.
Visit our Youtube page for all the episodes of Your Humanities Half-Hour.
_______________________________________________________
The latest installment of Cultural Icons of the CNMI features the lifelong dedication to the humanities of Frances Manibusan Sablan. Please click the link to learn more. 
Cultural Icons of the CNMI features a series of infographics that capture interviews and images of individuals and community groups that actively contribute to the Council's goal to preserve and promote the indigenous languages and cultures of the Northern Mariana Islands.  Recent features include Señot Donald Mendiola, the Refaluwasch Dancers, and Tata Lino Olopai.
---
Community Grant Projects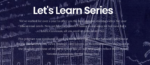 ---
---
New Publications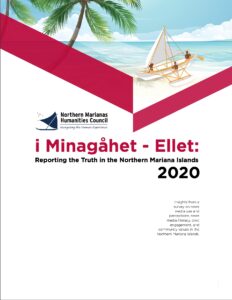 In 2020, The Council conducted a community survey examining CNMI residents' interaction with local media as sources for on-island news.
Several key areas of research included news use and perceived trustworthiness, perceptions of journalistic functions, news media literacy, and much more.
What resulted is the Minagåhet – Ellet report, research undertaken by Dr. Francis Dalisay, a journalism professor at the University of Guam.
Read on to see which newspaper or broadcast station your neighbors use the most; what media source is most trusted on island; how are locals using social media to access their news, and more.
This publication is an original work and was made possible by support and funding from the National Endowment for the Humanities, the Andrew W. Mellon Foundation, and the Federation of State Humanities Councils.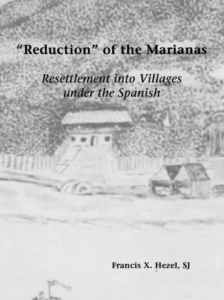 "Reduction" of the Marianas: Resettlement into Villages under the Spanish by Francis X. Hezel
The Council awarded a grant in 2020 to Francis X. Hezel to support the publication of "Reduction" of the Marianas Resettlement into Villages under the Spanish, and promote public awareness of a critical part of the early contact history to allow people to see how cultural elements were modified yet retained during this early era.  Download a free e-copy (.pdf) here.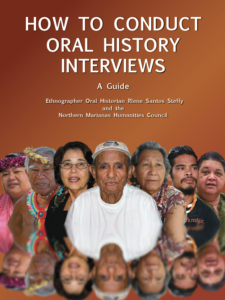 How to Conduct Oral History Interviews: A Guide by Rlene Santos Steffy
Ethnographer and Oral Historian Rlene Santos Steffy received a grant from the Humanities Council to publish an eBook How To Conduct Oral History Interviews: A Guide. With over 43 years as a mass communication specialist, Steffy served as the lead facilitator for the Council's oral history workshops in Saipan, Tinian, and Rota. In this guide, Steffy leads readers step-by-step on how to conduct oral history interviews of their own. It is complete with guidelines, forms, interview transcription examples, and testimonies from oral history workshop participants. Steffy incorporates the historical significance of oral story-telling and the analytical technique of capturing oral history in her guide to make this form of collecting history accessible for any reader. To learn how to conduct interviews of your own, download a free e-copy (.pdf) here.
---