23rd Governor's Humanities Awards 
The Northern Marianas Humanities Council is accepting nominations for the 23rd Governor's Humanities Awards.
This event is held annually in October as part of CNMI Humanities Month, recognizing outstanding contributions to the humanities by individuals and organizations in the community!
Award categories:
Research and Publication in the Humanities
Preservation of Traditional Cultural Practices
Preservation of CNMI History
Outstanding Humanities Teacher (in classroom and non-classroom settings).
Nominees above should have a notable humanities achievement in the past year.
Lifetime Achievement in the Humanities
Nominees above should have contributed to the fields of Humanities for multiple decades or more.
Complete the Nomination Form below, and provide a resume of the individual you are nominating, along with supporting documents (such as videos, newspaper or magazine clippings, books, articles, or testimonials, etc.), with detailed description of the nominees fields contributions to the humanities.
SUBMIT YOUR NOMINATIONS no later than
Friday, October 2, 2020 at 4:00PM.

Nominations may be hand delivered to our office in Spring Plaza Gualo Rai, Faxed to 235-4786, Emailed to info@nmhcouncil.org, or mailed to us at P.O Box 506437, Saipan MP, 96950.

23rd Governor's Humanities Awards - Nomination Form (doc.)
---
RECOGNIZATION OF AWARDEES
The 2019 Governor's Humanities awardees:
Research and Publication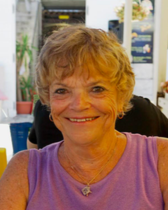 Lynne Michael
Lynne Michael first arrived on Rota in 1986, with a background in ethnomusicology, she was interested in what remained of Chamorro music. As an English teacher at Rota high School, she worked with Matt Ooka to develop cross-disciplinary units between English and Social Studies. In 1999, they applied for and received a grant from The Consortium of Pacific Arts and Cultures which provided recording equipment for students to interview the Man'amko' (elders) regarding their memories of The Japanese Era and World War II. When Matt's health was failing, he came to her with the recordings and made her promise that their work would not languish. Years passed, but she did not forget my promise to make these firsthand accounts available to the public. The book "Memories and Music, The Japanese Era on Rota" and accompanying CDs preserves a unique time in the history of Rota through interviews, songs, and first-person accounts. Direct transcriptions of interviews in Chamorro have been translated, not all in word-for-word literal translations, but as documented by the interviewers. Some interviews were conducted in English, and some of those that were duplicated over the years have been compiled into one narrative. As a bi-lingual publication, the indigenous Chamorro language is paired with translations in English to promote the preservation of the Chamorro language. The book and accompanying CDs make available a body of information that would otherwise be lost or unavailable to historians and the public.
---
Lifetime Achievement in the Humanities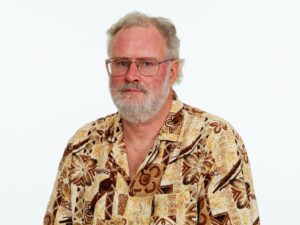 Dr. Boyd Dixon
Dr. Boyd Dixon is a Senior Archaeologist with Cardno GS in Guam and the CNMI. With over 45 years of archaeological experience in North America, Latin America, Western Europe, and the Pacific Basin, his interests are equally varied. They embrace prehistoric and historic patterns of settlement, subsistence, interaction, power, and conflict. Boyd holds a BA from the University of Alabama, with MA and PhD in Anthropology from the University of Connecticut. He was also a research associate at the Micronesian Area Research Center at the University of Guam. In 2019, he published the books "Yellow Beach 2 after 75 Years: The Archaeology of a WWII Invasion Beach on Saipan and its Historic Context in the Commonwealth of the Northern Mariana Islands" and "Afetna Point, Saipan: Archaeological Investigations of a Latte Period Village and Historic Context in the Commonwealth of the Northern Mariana Islands". Additionally, he peer-reviewed chapters and provided notes for the publication "Mass Suicides on Saipan and Tinian, 1944: An Examination of the Civilian Deaths in Historical Context" (2019). In 2018, his article "Pagan: the archaeology of a WWII battle never fought in the Northern Mariana Islands" was published in the Journal of Conflict Archaeology.
Between 2018-2019, he served as Project Supervisor of data recovery at Pre-Latte Site SP-1040 in San Roque, Saipan and co-authored an archaeological monitoring report on Kalabera Cave, Saipan. Dr. Dixon is currently working on a paper titled "Archaeologi- cal Roots of Louisiana in the Pre-WWII Japanese Sugarcane Plantations of the Northern Marianas Islands in Micronesia" that is expected to appear in the Louisiana Archeological Society Bulletin. He has produced several technical reports on Saipan and Tinian in the last five years.
Dr. Dixon's tireless efforts go beyond research and publication. In 2019, he served as a planner and image analyzer for the Northern Marianas Humanities Council's 75th Anniversaries of the Battles of Saipan and Tinian Multimedia Exhibit, in which archival photographs and footage of Chamorros, Carolinians, Japanese, Okinawans, and Koreans were shown at the NMI Museum of History and Culture and American Memorial Park. Dr. Dixon has contributed entries to Guampedia, presented at the 4th Marianas History Conference in 2019, and has worked on numerous other humanities projects that have advanced the scholarship and benefited the community and people of the Northern Marianas.
---
Outstanding Humanities Teacher non-classroom setting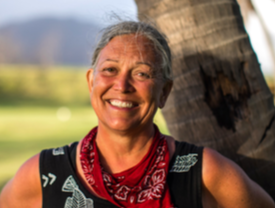 Emma Perez
Emma Perez is co-founder of 500 Sails, a cultural restoration project, dedicated to restoring the sailing traditions ofthe CNMI, both Chamorro and Carolinian. Mrs. Perez was a member of the Chamorro Flying Proa Relay Team that successfully swam the English Channel (22 miles from England to France) in 2007, raising money to build Che'lu, a 47-foot canoe that will be joining the 500 Sails fleet in 2019. She went on to be named Ambassador-at-Large by then Governor Calvo of Guam for embodying the Chamorro spirit and preserving and perpetuating culture and traditions. She also leads and teaches 500 Sails' Adult Learn-to-Swim classes through its swim program Dolphin Club Saipan and created the Gamsun Project for youth. Since moving to Saipan in 2013, Emma has taught over 1200 swimmers, participated in the Train the Trainers sailing program taught by Master Navigator Cecilio Raiukiulipiy, and has become one of the main "land based" teachers of sailing basics. As a teenager, she wanted to be a marine biologist, but followed the path to the accounting profession instead, where she worked with non-profit organizations for decades. She is delighted to have found herself back in and on the water, and is grateful to be part of the revitalization of seafaring in the Marianas.
---
Outstanding Humanities Teacher
in classroom setting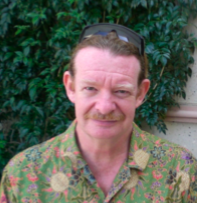 Dr. Chas Algaier
Dr. Chas Algaier, has been involved education and the humanities in the CNMI for the past 25 years. While facilitating the creation of Northern Marianas College's first baccalaureate degree program in Elementary Education, Dr. Algaier worked closely with the CNMI Humanities Council supporting speakers, programs, and publications. In 2005, he began teaching at Marianas High School where he taught Advanced Placement courses in Psychology, Literature and World History. Later he expanded to teaching AP courses in U.S. History. He served as Chair for the Social Studies Department and AP Program. He has also been the advisor for MHS National Honor Society Chapter, Junior States of America Chapter, Red Cross Club, Physics Club and Senior Class advisor. He was selected as keynote speaker for the graduating classes of 2006, 2007 and 2009. He has been selected as the MHS Teacher of the Year and as Gilder-Lehman 2014 Territories Teacher of the Year. He is known to deliver eloquent and active lectures with his students, distributes meaningful assignments and assigns exciting and academically challenging projects that contribute to the curriculum. He now appreciates the support the Council gives to Social Studies education in the CNMI through its sponsorship of National History Day. He also feels pride whenever his favorite student completes another bachelor's, master's, or doctorate degree, receives further recognition for greatness, or otherwise succeeds in life.
---
Preservation of Traditional Cultural Practices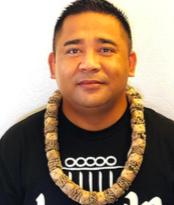 Eric Joel Reyes
Eric Joel Reyes, for over two decades, has studied under his mentor, the Master of Chamorro dance, Saina Francisco B. Rabon and has participated in FestPAC 1996 - Apia, Samoa , FestPAC 2000 - New Caledonia , Festpac 2004 - Palau , 2005 - New Zealand Pacific Cultural Conference , and many more promotional trips to China, Japan, Korea, Taiwan and the mainland United States. He realized that all these nations have one thing in common, they were in one way or the other trying to preserve their culture. He start- ed to write chants & music that spoke of the preservation & perpetu- ation of the Chamorro people. He went on to formulate Guma Taotao Taga in 2006 and has been an active cultural practitioner since. He has spear-headed many opening and closing ceremonies with the traditional bendision and has also participated in many Chamorro language competitions, bringing home 12 gold medals and many championship awards. He was awarded Chamorro dance instructor of the year in 2006 and 2007. In 2010, his team produced an award winning Chamorro traditional album of the year, "Guinaifen I kulu". In 2012, he was honored with the title "Fafa'na'gue" which is a certified traditional Chamorro dance instructor mandated by the 31st Guam Legislature and Pa'a Taotao Tano. His main goal is to re-establish the Chamorro culture by promoting one Marianas and to foster the unity of the Chamorro people by preserving, perpetuating, promoting, practicing, and performing the culture, which includes language, songs, chants, and dances.
---
The 2018 Governor's Humanities awardees:
Galvin Deleon Guerrero
Preservation of CNMI History
Victor Cabrera
Outstanding Humanities Teacher (classroom setting)
Cecilio Raiukiulipiy
Outstanding Humanities Teacher (non-classroom setting)
Gordon Marciano
Preservation of Traditional Cultural Practices
Don Farrell
Research and Publication in the Humanities
Scott Russell 
Lifetime Achievement Award in the Humanities